.img-thumbnail,.thumbnail.has-feedback,sub,sup.fa,.glyphiconhtmlarticle,apart,particulars,figcaption,determine,footer,header,hgroup,predominant,nav,part,abstractaudio,canvas,progress,videoaudio:not([controls])[hidden],templateab,optgroup,robustdfnmarksub,supsupsubimgsvg:not(:root)hrpre,textareacode,kbd,pre,sampbutton,enter,optgroup,choose,textarea.glyphicon,deal with,citebuttonbutton,choosebutton,html enter[type=button],enter[type=reset],enter[type=submit]button[disabled],html enter[disabled]button::-moz-focus-inner,enter::-moz-focus-innerenter[type=checkbox],enter[type=radio]enter[type=number]::-webkit-inner-spin-button,enter[type=number]::-webkit-outer-spin-buttonenter[type=search]::-webkit-search-cancel-button,enter[type=search]::-webkit-search-decoration@media print.btn,.btn-danger.energetic,.btn-danger:energetic,.btn-default.energetic,.btn-default:energetic,.btn-info.energetic,.btn-info:energetic,.btn-primary.energetic,.btn-primary:energetic,.btn-warning.energetic,.btn-warning:energetic,.btn.energetic,.btn:energetic,.dropdown-menu>.disabled>a:focus,.dropdown-menu>.disabled>a:hover,.form-control,.navbar-toggle,.open .dropdown-toggle.btn-danger,.open .dropdown-toggle.btn-default,.open .dropdown-toggle.btn-info,.open .dropdown-toggle.btn-primary,.open .dropdown-toggle.btn-warning.img-thumbnail,physique:after,:earlier thanhtmlphysiquebutton,enter,choose,textareaaa:focus,a:hovera:focusdetermine.carousel-inner>.merchandise>a>img,.carousel-inner>.merchandise>img,.img-responsive,.thumbnail a>img,.thumbnail>img.img-rounded.img-thumbnail.list-inline,.list-unstyled.img-circlehr.h1,.h2,.h3,.h4,.h5,.h6,h1,h2,h3,h4,h5,h6.h1 .small,.h1 small,.h2 .small,.h2 small,.h3 .small,.h3 small,.h4 .small,.h4 small,.h5 .small,.h5 small,.h6 .small,.h6 small,h1 .small,h1 small,h2 .small,h2 small,h3 .small,h3 small,h4 .small,h4 small,h5 .small,h5 small,h6 .small,h6 small.h1,.h2,.h3,h1,h2,h3.h1 .small,.h1 small,.h2 .small,.h2 small,.h3 .small,.h3 small,h1 .small,h1 small,h2 .small,h2 small,h3 .small,h3 small.h4,.h5,.h6,h4,h5,h6.h4 .small,.h4 small,.h5 .small,.h5 small,.h6 .small,.h6 small,h4 .small,h4 small,h5 .small,h5 small,h6 .small,h6 small.h1,h1.h2,h2.h3,h3.h4,h4.h5,h5.h6,h6.leaddt,labeldeal with,blockquote .small,blockquote footer,blockquote small,dd,dt,pre@media (min-width:768px).small,small.text-left.text-right.text-center.text-justify.text-muted.text-primarya.text-primary:hover.text-successa.text-success:hover.text-infoa.text-info:hover.text-warninga.text-warning:hover.text-dangera.text-danger:hover.bg-primarya.bg-primary:hover.bg-successa.bg-success:hover.bg-infoa.bg-info:hover.bg-warninga.bg-warning:hover.bg-dangera.bg-danger:hoverpre code,desk.page-headerdl,ol,ulblockquote ol:last-child,blockquote p:last-child,blockquote ul:last-child,ol ol,ol ul,ul ol,ul ulol,ul.list-inline.list-inline>lidldd@media (min-width:768px).brdMid,.btn-group-vertical>.btn-group:after,.btn-toolbar:after,.clear,.clearfix:after,.container-fluid:after,.container:after,.form-horizontal .form-group:after,.modal-footer:after,.nav:after,.navbar-collapse:after,.navbar-header:after,.navbar:after,.pager:after,.panel-body:after,.row:after.container,.container-fluidabbr[data-original-title],abbr[title].initialismblockquote.desk,deal withblockquote .small,blockquote footer,blockquote smalllegend,preblockquote .small:earlier than,blockquote footer:earlier than,blockquote small:earlier than.blockquote-reverse,blockquote.pull-rightcode,kbd.blockquote-reverse .small:earlier than,.blockquote-reverse footer:earlier than,.blockquote-reverse small:earlier than,blockquote.pull-right .small:earlier than,blockquote.pull-right footer:earlier than,blockquote.pull-right small:earlier than.blockquote-reverse .small:after,.blockquote-reverse footer:after,.blockquote-reverse small:after,blockquote.pull-right .small:after,blockquote.pull-right footer:after,blockquote.pull-right small:afterblockquote:after,blockquote:earlier thancode,kbd,pre,sampcodekbdprepre code.container,.container-fluid.pre-scrollable@media (min-width:992px)@media (min-width:1200px).row.col-lg-1,.col-lg-10,.col-lg-11,.col-lg-12,.col-lg-2,.col-lg-Three,.col-lg-Four,.col-lg-5,.col-lg-6,.col-lg-7,.col-lg-Eight,.col-lg-9,.col-md-1,.col-md-10,.col-md-11,.col-md-12,.col-md-2,.col-md-Three,.col-md-Four,.col-md-5,.col-md-6,.col-md-7,.col-md-Eight,.col-md-9,.col-md-half,.col-md-half1,.col-sm-1,.col-sm-10,.col-sm-11,.col-sm-12,.col-sm-2,.col-sm-Three,.col-sm-Four,.col-sm-5,.col-sm-6,.col-sm-7,.col-sm-Eight,.col-sm-9,.col-sm-half,.col-sm-half1,.col-xs-1,.col-xs-10,.col-xs-11,.col-xs-12,.col-xs-2,.col-xs-Three,.col-xs-Four,.col-xs-5,.col-xs-6,.col-xs-7,.col-xs-Eight,.col-xs-9.col-xs-1,.col-xs-10,.col-xs-11,.col-xs-12,.col-xs-2,.col-xs-Three,.col-xs-Four,.col-xs-5,.col-xs-6,.col-xs-7,.col-xs-Eight,.col-xs-9.col-xs-12.col-xs-11.col-xs-10.col-xs-9.col-xs-Eight.col-xs-7.col-xs-6.col-xs-5.col-xs-Four.col-xs-Three.col-xs-2.col-xs-1.col-xs-pull-12.col-xs-pull-11.col-xs-pull-10.col-xs-pull-9.col-xs-pull-Eight.col-xs-pull-7.col-xs-pull-6.col-xs-pull-5.col-xs-pull-Four.col-xs-pull-Three.col-xs-pull-2.col-xs-pull-1.col-xs-pull-Zero.col-xs-push-12.col-xs-push-11.col-xs-push-10.col-xs-push-9.col-xs-push-Eight.col-xs-push-7.col-xs-push-6.col-xs-push-5.col-xs-push-Four.col-xs-push-Three.col-xs-push-2.col-xs-push-1.col-xs-push-Zero.col-xs-offset-12.col-xs-offset-11.col-xs-offset-10.col-xs-offset-9.col-xs-offset-Eight.col-xs-offset-7.col-xs-offset-6.col-xs-offset-5.col-xs-offset-Four.col-xs-offset-Three.col-xs-offset-2.col-xs-offset-1.col-xs-offset-Zero@media (min-width:768px)@media (min-width:992px)@media (min-width:1200px)deskth.desk.desk>tbody>tr>td,.desk>tbody>tr>th,.desk>tfoot>tr>td,.desk>tfoot>tr>th,.desk>thead>tr>td,.desk>thead>tr>th.desk>thead>tr>th.desk>caption+thead>tr:first-child>td,.desk>caption+thead>tr:first-child>th,.desk>colgroup+thead>tr:first-child>td,.desk>colgroup+thead>tr:first-child>th,.desk>thead:first-child>tr:first-child>td,.desk>thead:first-child>tr:first-child>th.desk>tbody+tbody.desk .desk.table-condensed>tbody>tr>td,.table-condensed>tbody>tr>th,.table-condensed>tfoot>tr>td,.table-condensed>tfoot>tr>th,.table-condensed>thead>tr>td,.table-condensed>thead>tr>th.table-bordered,.table-bordered>tbody>tr>td,.table-bordered>tbody>tr>th,.table-bordered>tfoot>tr>td,.table-bordered>tfoot>tr>th,.table-bordered>thead>tr>td,.table-bordered>thead>tr>th.table-bordered>thead>tr>td,.table-bordered>thead>tr>th.table-striped>tbody>tr:nth-child(odd)>td,.table-striped>tbody>tr:nth-child(odd)>th.table-hover>tbody>tr:hover>td,.table-hover>tbody>tr:hover>th,.desk>tbody>tr.energetic>td,.desk>tbody>tr.energetic>th,.desk>tbody>tr>td.energetic,.desk>tbody>tr>th.energetic,.desk>tfoot>tr.energetic>td,.desk>tfoot>tr.energetic>th,.desk>tfoot>tr>td.energetic,.desk>tfoot>tr>th.energetic,.desk>thead>tr.energetic>td,.desk>thead>tr.energetic>th,.desk>thead>tr>td.energetic,.desk>thead>tr>th.energeticdesk col[class*=col-]desk td[class*=col-],desk th[class*=col-].table-hover>tbody>tr.energetic:hover>td,.table-hover>tbody>tr.energetic:hover>th,.table-hover>tbody>tr>td.energetic:hover,.table-hover>tbody>tr>th.energetic:hover.desk>tbody>tr.success>td,.desk>tbody>tr.success>th,.desk>tbody>tr>td.success,.desk>tbody>tr>th.success,.desk>tfoot>tr.success>td,.desk>tfoot>tr.success>th,.desk>tfoot>tr>td.success,.desk>tfoot>tr>th.success,.desk>thead>tr.success>td,.desk>thead>tr.success>th,.desk>thead>tr>td.success,.desk>thead>tr>th.success.table-hover>tbody>tr.success:hover>td,.table-hover>tbody>tr.success:hover>th,.table-hover>tbody>tr>td.success:hover,.table-hover>tbody>tr>th.success:hover.desk>tbody>tr.data>td,.desk>tbody>tr.data>th,.desk>tbody>tr>td.data,.desk>tbody>tr>th.data,.desk>tfoot>tr.data>td,.desk>tfoot>tr.data>th,.desk>tfoot>tr>td.data,.desk>tfoot>tr>th.data,.desk>thead>tr.data>td,.desk>thead>tr.data>th,.desk>thead>tr>td.data,.desk>thead>tr>th.data.table-hover>tbody>tr.data:hover>td,.table-hover>tbody>tr.data:hover>th,.table-hover>tbody>tr>td.data:hover,.table-hover>tbody>tr>th.data:hover.desk>tbody>tr.warning>td,.desk>tbody>tr.warning>th,.desk>tbody>tr>td.warning,.desk>tbody>tr>th.warning,.desk>tfoot>tr.warning>td,.desk>tfoot>tr.warning>th,.desk>tfoot>tr>td.warning,.desk>tfoot>tr>th.warning,.desk>thead>tr.warning>td,.desk>thead>tr.warning>th,.desk>thead>tr>td.warning,.desk>thead>tr>th.warning.table-hover>tbody>tr.warning:hover>td,.table-hover>tbody>tr.warning:hover>th,.table-hover>tbody>tr>td.warning:hover,.table-hover>tbody>tr>th.warning:hover.desk>tbody>tr.hazard>td,.desk>tbody>tr.hazard>th,.desk>tbody>tr>td.hazard,.desk>tbody>tr>th.hazard,.desk>tfoot>tr.hazard>td,.desk>tfoot>tr.hazard>th,.desk>tfoot>tr>td.hazard,.desk>tfoot>tr>th.hazard,.desk>thead>tr.hazard>td,.desk>thead>tr.hazard>th,.desk>thead>tr>td.hazard,.desk>thead>tr>th.hazard.table-hover>tbody>tr.hazard:hover>td,.table-hover>tbody>tr.hazard:hover>th,.table-hover>tbody>tr>td.hazard:hover,.table-hover>tbody>tr>th.hazard:hover@media (max-width:767px)fieldsetlegendlabelenter[type=search]enter[type=checkbox],enter[type=radio].form-control,outputenter[type=file]enter[type=range]choose[multiple],choose[size]enter[type=file]:focus,enter[type=checkbox]:focus,enter[type=radio]:focusoutput.form-control.form-control:focus.form-control::-moz-placeholder.form-control:-ms-input-placeholder.form-control::-webkit-input-placeholder.has-success .checkbox,.has-success .checkbox-inline,.has-success .control-label,.has-success .form-control-feedback,.has-success .help-block,.has-success .radio,.has-success .radio-inline.form-control[disabled],.form-control[readonly],fieldset[disabled] .form-controltextarea.form-controlenter[type=date].form-group.checkbox,.radio.checkbox label,.radio label.checkbox enter[type=checkbox],.checkbox-inline enter[type=checkbox],.radio enter[type=radio],.radio-inline enter[type=radio].checkbox+.checkbox,.radio+.radio.checkbox-inline,.radio-inline.checkbox-inline+.checkbox-inline,.radio-inline+.radio-inline.checkbox-inline[disabled],.checkbox[disabled],.radio-inline[disabled],.radio[disabled],fieldset[disabled] .checkbox,fieldset[disabled] .checkbox-inline,fieldset[disabled] .radio,fieldset[disabled] .radio-inline,fieldset[disabled] enter[type=checkbox],fieldset[disabled] enter[type=radio],enter[type=checkbox][disabled],enter[type=radio][disabled].input-smchoose.input-smchoose[multiple].input-sm,textarea.input-sm.input-lgchoose.input-lgchoose[multiple].input-lg,textarea.input-lg.has-feedback .form-control.has-feedback .form-control-feedback.collapsing,.dropdown,.glyphicon.has-success .form-control.has-success .form-control:focus.has-success .input-group-addon.has-warning .checkbox,.has-warning .checkbox-inline,.has-warning .control-label,.has-warning .form-control-feedback,.has-warning .help-block,.has-warning .radio,.has-warning .radio-inline.has-warning .form-control.has-warning .form-control:focus.has-warning .input-group-addon.has-error .checkbox,.has-error .checkbox-inline,.has-error .control-label,.has-error .form-control-feedback,.has-error .help-block,.has-error .radio,.has-error .radio-inline.has-error .form-control.has-error .form-control:focus.has-error .input-group-addon.form-control-static.help-block@media (min-width:768px).form-horizontal .checkbox,.form-horizontal .checkbox-inline,.form-horizontal .control-label,.form-horizontal .radio,.form-horizontal .radio-inline.form-horizontal .checkbox,.form-horizontal .radio.form-horizontal .form-group.form-horizontal .form-control-static.form-horizontal .has-feedback .form-control-feedback.btn.btn.energetic:focus,.btn:energetic:focus,.btn:focus.btn:focus,.btn:hover.btn.energetic,.btn:energetic.btn.disabled,.btn[disabled],fieldset[disabled] .btn.btn-default.btn-default.energetic,.btn-default:energetic,.btn-default:focus,.btn-default:hover,.open .dropdown-toggle.btn-default.btn-default.disabled,.btn-default.disabled.energetic,.btn-default.disabled:energetic,.btn-default.disabled:focus,.btn-default.disabled:hover,.btn-default[disabled],.btn-default[disabled].energetic,.btn-default[disabled]:energetic,.btn-default[disabled]:focus,.btn-default[disabled]:hover,fieldset[disabled] .btn-default,fieldset[disabled] .btn-default.energetic,fieldset[disabled] .btn-default:energetic,fieldset[disabled] .btn-default:focus,fieldset[disabled] .btn-default:hover.btn-default .badge.btn-primary.btn-primary.energetic,.btn-primary:energetic,.btn-primary:focus,.btn-primary:hover,.open .dropdown-toggle.btn-primary.btn-primary.disabled,.btn-primary.disabled.energetic,.btn-primary.disabled:energetic,.btn-primary.disabled:focus,.btn-primary.disabled:hover,.btn-primary[disabled],.btn-primary[disabled].energetic,.btn-primary[disabled]:energetic,.btn-primary[disabled]:focus,.btn-primary[disabled]:hover,fieldset[disabled] .btn-primary,fieldset[disabled] .btn-primary.energetic,fieldset[disabled] .btn-primary:energetic,fieldset[disabled] .btn-primary:focus,fieldset[disabled] .btn-primary:hover.btn-primary .badge.btn-success.btn-success.energetic,.btn-success:energetic,.btn-success:focus,.btn-success:hover,.open .dropdown-toggle.btn-success.btn-success.energetic,.btn-success:energetic,.open .dropdown-toggle.btn-success.btn-success.disabled,.btn-success.disabled.energetic,.btn-success.disabled:energetic,.btn-success.disabled:focus,.btn-success.disabled:hover,.btn-success[disabled],.btn-success[disabled].energetic,.btn-success[disabled]:energetic,.btn-success[disabled]:focus,.btn-success[disabled]:hover,fieldset[disabled] .btn-success,fieldset[disabled] .btn-success.energetic,fieldset[disabled] .btn-success:energetic,fieldset[disabled] .btn-success:focus,fieldset[disabled] .btn-success:hover.btn-success .badge.btn-info.btn-info.energetic,.btn-info:energetic,.btn-info:focus,.btn-info:hover,.open .dropdown-toggle.btn-info.btn-info.disabled,.btn-info.disabled.energetic,.btn-info.disabled:energetic,.btn-info.disabled:focus,.btn-info.disabled:hover,.btn-info[disabled],.btn-info[disabled].energetic,.btn-info[disabled]:energetic,.btn-info[disabled]:focus,.btn-info[disabled]:hover,fieldset[disabled] .btn-info,fieldset[disabled] .btn-info.energetic,fieldset[disabled] .btn-info:energetic,fieldset[disabled] .btn-info:focus,fieldset[disabled] .btn-info:hover.btn-info .badge.btn-warning.btn-warning.energetic,.btn-warning:energetic,.btn-warning:focus,.btn-warning:hover,.open .dropdown-toggle.btn-warning.btn-warning.disabled,.btn-warning.disabled.energetic,.btn-warning.disabled:energetic,.btn-warning.disabled:focus,.btn-warning.disabled:hover,.btn-warning[disabled],.btn-warning[disabled].energetic,.btn-warning[disabled]:energetic,.btn-warning[disabled]:focus,.btn-warning[disabled]:hover,fieldset[disabled] .btn-warning,fieldset[disabled] .btn-warning.energetic,fieldset[disabled] .btn-warning:energetic,fieldset[disabled] .btn-warning:focus,fieldset[disabled] .btn-warning:hover.btn-warning .badge.btn-danger.btn-danger.energetic,.btn-danger:energetic,.btn-danger:focus,.btn-danger:hover,.open .dropdown-toggle.btn-danger.btn-danger.disabled,.btn-danger.disabled.energetic,.btn-danger.disabled:energetic,.btn-danger.disabled:focus,.btn-danger.disabled:hover,.btn-danger[disabled],.btn-danger[disabled].energetic,.btn-danger[disabled]:energetic,.btn-danger[disabled]:focus,.btn-danger[disabled]:hover,fieldset[disabled] .btn-danger,fieldset[disabled] .btn-danger.energetic,fieldset[disabled] .btn-danger:energetic,fieldset[disabled] .btn-danger:focus,fieldset[disabled] .btn-danger:hover.btn-danger .badge.btn-link.btn-link,.btn-link:energetic,.btn-link[disabled],fieldset[disabled] .btn-link.btn-link,.btn-link:energetic,.btn-link:focus,.btn-link:hover.btn-link:focus,.btn-link:hover.btn-link[disabled]:focus,.btn-link[disabled]:hover,fieldset[disabled] .btn-link:focus,fieldset[disabled] .btn-link:hover.btn-group-lg>.btn,.btn-lg.btn-group-sm>.btn,.btn-sm.btn-group-xs>.btn,.btn-xs.btn-block.btn-block+.btn-blockenter[type=button].btn-block,enter[type=reset].btn-block,enter[type=submit].btn-block.fade.fade.in.collapse.collapse.in.caret,.glyphicon.collapsing@font-face.glyphicon.glyphicon-asterisk:earlier than.glyphicon-plus:earlier than.glyphicon-euro:earlier than.glyphicon-minus:earlier than.glyphicon-cloud:earlier than.glyphicon-envelope:earlier than.glyphicon-pencil:earlier than.glyphicon-glass:earlier than.glyphicon-music:earlier than.glyphicon-search:earlier than.glyphicon-heart:earlier than.glyphicon-star:earlier than.glyphicon-star-empty:earlier than.glyphicon-user:earlier than.glyphicon-film:earlier than.glyphicon-th-large:earlier than.glyphicon-th:earlier than.glyphicon-th-list:earlier than.glyphicon-ok:earlier than.glyphicon-remove:earlier than.glyphicon-zoom-in:earlier than.glyphicon-zoom-out:earlier than.glyphicon-off:earlier than.glyphicon-signal:earlier than.glyphicon-cog:earlier than.glyphicon-trash:earlier than.glyphicon-home:earlier than.glyphicon-file:earlier than.glyphicon-time:earlier than.glyphicon-road:earlier than.glyphicon-download-alt:earlier than.glyphicon-download:earlier than.glyphicon-upload:earlier than.glyphicon-inbox:earlier than.glyphicon-play-circle:earlier than.glyphicon-repeat:earlier than.glyphicon-refresh:earlier than.glyphicon-list-alt:earlier than.glyphicon-lock:earlier than.glyphicon-flag:earlier than.glyphicon-headphones:earlier than.glyphicon-volume-off:earlier than.glyphicon-volume-down:earlier than.glyphicon-volume-up:earlier than.glyphicon-qrcode:earlier than.glyphicon-barcode:earlier than.glyphicon-tag:earlier than.glyphicon-tags:earlier than.glyphicon-book:earlier than.glyphicon-bookmark:earlier than.glyphicon-print:earlier than.glyphicon-camera:earlier than.glyphicon-font:earlier than.glyphicon-bold:earlier than.glyphicon-italic:earlier than.glyphicon-text-height:earlier than.glyphicon-text-width:earlier than.glyphicon-align-left:earlier than.glyphicon-align-center:earlier than.glyphicon-align-right:earlier than.glyphicon-align-justify:earlier than.glyphicon-list:earlier than.glyphicon-indent-left:earlier than.glyphicon-indent-right:earlier than.glyphicon-facetime-video:earlier than.glyphicon-picture:earlier than.glyphicon-map-marker:earlier than.glyphicon-adjust:earlier than.glyphicon-tint:earlier than.glyphicon-edit:earlier than.glyphicon-share:earlier than.glyphicon-check:earlier than.glyphicon-move:earlier than.glyphicon-step-backward:earlier than.glyphicon-fast-backward:earlier than.glyphicon-backward:earlier than.glyphicon-play:earlier than.glyphicon-pause:earlier than.glyphicon-stop:earlier than.glyphicon-forward:earlier than.glyphicon-fast-forward:earlier than.glyphicon-step-forward:earlier than.glyphicon-eject:earlier than.glyphicon-chevron-left:earlier than.glyphicon-chevron-right:earlier than.glyphicon-plus-sign:earlier than.glyphicon-minus-sign:earlier than.glyphicon-remove-sign:earlier than.glyphicon-ok-sign:earlier than.glyphicon-question-sign:earlier than.glyphicon-info-sign:earlier than.glyphicon-screenshot:earlier than.glyphicon-remove-circle:earlier than.glyphicon-ok-circle:earlier than.glyphicon-ban-circle:earlier than.glyphicon-arrow-left:earlier than.glyphicon-arrow-right:earlier than.glyphicon-arrow-up:earlier than.glyphicon-arrow-down:earlier than.glyphicon-share-alt:earlier than.glyphicon-resize-full:earlier than.glyphicon-resize-small:earlier than.glyphicon-exclamation-sign:earlier than.glyphicon-gift:earlier than.glyphicon-leaf:earlier than.glyphicon-fire:earlier than.glyphicon-eye-open:earlier than.glyphicon-eye-close:earlier than.glyphicon-warning-sign:earlier than.glyphicon-plane:earlier than.glyphicon-calendar:earlier than.glyphicon-random:earlier than.glyphicon-comment:earlier than.glyphicon-magnet:earlier than.glyphicon-chevron-up:earlier than.glyphicon-chevron-down:earlier than.glyphicon-retweet:earlier than.glyphicon-shopping-cart:earlier than.glyphicon-folder-close:earlier than.glyphicon-folder-open:earlier than.glyphicon-resize-vertical:earlier than.glyphicon-resize-horizontal:earlier than.glyphicon-hdd:earlier than.glyphicon-bullhorn:earlier than.glyphicon-bell:earlier than.glyphicon-certificate:earlier than.glyphicon-thumbs-up:earlier than.glyphicon-thumbs-down:earlier than.glyphicon-hand-right:earlier than.glyphicon-hand-left:earlier than.glyphicon-hand-up:earlier than.glyphicon-hand-down:earlier than.glyphicon-circle-arrow-right:earlier than.glyphicon-circle-arrow-left:earlier than.glyphicon-circle-arrow-up:earlier than.glyphicon-circle-arrow-down:earlier than.glyphicon-globe:earlier than.glyphicon-wrench:earlier than.glyphicon-tasks:earlier than.glyphicon-filter:earlier than.glyphicon-briefcase:earlier than.glyphicon-fullscreen:earlier than.glyphicon-dashboard:earlier than.glyphicon-paperclip:earlier than.glyphicon-heart-empty:earlier than.glyphicon-link:earlier than.glyphicon-phone:earlier than.glyphicon-pushpin:earlier than.glyphicon-usd:earlier than.glyphicon-gbp:earlier than.glyphicon-sort:earlier than.glyphicon-sort-by-alphabet:earlier than.glyphicon-sort-by-alphabet-alt:earlier than.glyphicon-sort-by-order:earlier than.glyphicon-sort-by-order-alt:earlier than.glyphicon-sort-by-attributes:earlier than.glyphicon-sort-by-attributes-alt:earlier than.glyphicon-unchecked:earlier than.glyphicon-expand:earlier than.glyphicon-collapse-down:earlier than.glyphicon-collapse-up:earlier than.glyphicon-log-in:earlier than.glyphicon-flash:earlier than.glyphicon-log-out:earlier than.glyphicon-new-window:earlier than.glyphicon-record:earlier than.glyphicon-save:earlier than.glyphicon-open:earlier than.glyphicon-saved:earlier than.glyphicon-import:earlier than.glyphicon-export:earlier than.glyphicon-send:earlier than.glyphicon-floppy-disk:earlier than.glyphicon-floppy-saved:earlier than.glyphicon-floppy-remove:earlier than.glyphicon-floppy-save:earlier than.glyphicon-floppy-open:earlier than.glyphicon-credit-card:earlier than.glyphicon-transfer:earlier than.glyphicon-cutlery:earlier than.glyphicon-header:earlier than.glyphicon-compressed:earlier than.glyphicon-earphone:earlier than.glyphicon-phone-alt:earlier than.glyphicon-tower:earlier than.glyphicon-stats:earlier than.glyphicon-sd-video:earlier than.glyphicon-hd-video:earlier than.glyphicon-subtitles:earlier than.glyphicon-sound-stereo:earlier than.glyphicon-sound-dolby:earlier than.glyphicon-sound-5-1:earlier than.glyphicon-sound-6-1:earlier than.glyphicon-sound-7-1:earlier than.glyphicon-copyright-mark:earlier than.glyphicon-registration-mark:earlier than.glyphicon-cloud-download:earlier than.glyphicon-cloud-upload:earlier than.glyphicon-tree-conifer:earlier than.glyphicon-tree-deciduous:earlier than.caret.dropdown-toggle:focus.dropdown-menu.dropdown-menu-right,.dropdown-menu.pull-right.dropdown-header,.dropdown-menu>li>a.btn-group-vertical>.btn:not(:first-child):not(:last-child),.btn-group>.btn-group:not(:first-child):not(:last-child)>.btn,.btn-group>.btn:not(:first-child):not(:last-child):not(.dropdown-toggle).dropdown-menu .divider.dropdown-menu>li>a.dropdown-menu>li>a:focus,.dropdown-menu>li>a:hover.dropdown-menu>.energetic>a,.dropdown-menu>.energetic>a:focus,.dropdown-menu>.energetic>a:hover.dropdown-menu>.disabled>a,.dropdown-menu>.disabled>a:focus,.dropdown-menu>.disabled>a:hover.dropdown-menu>.disabled>a:focus,.dropdown-menu>.disabled>a:hover.open>.dropdown-menu.open>a.dropdown-menu-left.dropdown-header.dropdown-backdrop.pull-right>.dropdown-menu.dropup .caret,.navbar-fixed-bottom .dropdown .caret.dropup .dropdown-menu,.navbar-fixed-bottom .dropdown .dropdown-menu.modal,.modal-backdrop@media (min-width:768px).nav-justified>.dropdown .dropdown-menu,.nav-tabs.nav-justified>.dropdown .dropdown-menu.btn-group,.btn-group-vertical.btn-group-vertical>.btn,.btn-group>.btn.btn-group-vertical>.btn.energetic,.btn-group-vertical>.btn:energetic,.btn-group-vertical>.btn:focus,.btn-group-vertical>.btn:hover,.btn-group>.btn.energetic,.btn-group>.btn:energetic,.btn-group>.btn:focus,.btn-group>.btn:hover.btn-group-vertical>.btn:focus,.btn-group>.btn:focus.btn-group .btn+.btn,.btn-group .btn+.btn-group,.btn-group .btn-group+.btn,.btn-group .btn-group+.btn-group.btn-toolbar.btn-toolbar .btn-group,.btn-toolbar .input-group.btn-toolbar>.btn,.btn-toolbar>.btn-group,.btn-toolbar>.input-group.btn .caret,.btn-group>.btn:first-child.btn-group>.btn:first-child:not(:last-child):not(.dropdown-toggle).btn-group>.btn:last-child:not(:first-child),.btn-group>.dropdown-toggle:not(:first-child).btn-group>.btn-group.btn-group>.btn-group:first-child>.btn:last-child,.btn-group>.btn-group:first-child>.dropdown-toggle.btn-group>.btn-group:last-child>.btn:first-child.btn-group .dropdown-toggle:energetic,.btn-group.open .dropdown-toggle.btn-group>.btn+.dropdown-toggle.btn-group>.btn-lg+.dropdown-toggle.btn-group.open .dropdown-toggle.btn-group.open .dropdown-toggle.btn-link.btn-lg .caret.dropup .btn-lg .caret.btn-group-vertical>.btn,.btn-group-vertical>.btn-group,.btn-group-vertical>.btn-group>.btn.btn-group-vertical>.btn-group>.btn.btn-group-vertical>.btn+.btn,.btn-group-vertical>.btn+.btn-group,.btn-group-vertical>.btn-group+.btn,.btn-group-vertical>.btn-group+.btn-group.input-group-btn:last-child>.btn,.input-group-btn:last-child>.btn-group,.input-group-btn>.btn+.btn.btn-group-vertical>.btn:first-child:not(:last-child).btn-group-vertical>.btn:last-child:not(:first-child).btn-group-vertical>.btn-group:not(:first-child):not(:last-child)>.btn.btn-group-vertical>.btn-group:first-child:not(:last-child)>.btn:last-child,.btn-group-vertical>.btn-group:first-child:not(:last-child)>.dropdown-toggle.btn-group-vertical>.btn-group:last-child:not(:first-child)>.btn:first-child.btn-group-justified.btn-group-justified>.btn,.btn-group-justified>.btn-group.btn-group-justified>.btn-group .btn[data-toggle=buttons]>.btn>enter[type=checkbox],[data-toggle=buttons]>.btn>enter[type=radio].input-group.input-group[class*=col-].input-group .form-control.input-group-lg>.form-control,.input-group-lg>.input-group-addon,.input-group-lg>.input-group-btn>.btnchoose.input-group-lg>.form-control,choose.input-group-lg>.input-group-addon,choose.input-group-lg>.input-group-btn>.btnchoose[multiple].input-group-lg>.form-control,choose[multiple].input-group-lg>.input-group-addon,choose[multiple].input-group-lg>.input-group-btn>.btn,textarea.input-group-lg>.form-control,textarea.input-group-lg>.input-group-addon,textarea.input-group-lg>.input-group-btn>.btn.input-group-sm>.form-control,.input-group-sm>.input-group-addon,.input-group-sm>.input-group-btn>.btnchoose.input-group-sm>.form-control,choose.input-group-sm>.input-group-addon,choose.input-group-sm>.input-group-btn>.btnchoose[multiple].input-group-sm>.form-control,choose[multiple].input-group-sm>.input-group-addon,choose[multiple].input-group-sm>.input-group-btn>.btn,textarea.input-group-sm>.form-control,textarea.input-group-sm>.input-group-addon,textarea.input-group-sm>.input-group-btn>.btn.input-group .form-control,.input-group-addon,.input-group-btn.nav>li,.nav>li>a.input-group .form-control:not(:first-child):not(:last-child),.input-group-addon:not(:first-child):not(:last-child),.input-group-btn:not(:first-child):not(:last-child).input-group-addon,.input-group-btn.input-group-addon.input-group-addon.input-sm.input-group-addon.input-lg.input-group-addon enter[type=checkbox],.input-group-addon enter[type=radio].input-group .form-control:first-child,.input-group-addon:first-child,.input-group-btn:first-child>.btn,.input-group-btn:first-child>.btn-group>.btn,.input-group-btn:first-child>.dropdown-toggle,.input-group-btn:last-child>.btn-group:not(:last-child)>.btn,.input-group-btn:last-child>.btn:not(:last-child):not(.dropdown-toggle).input-group-addon:first-child.input-group .form-control:last-child,.input-group-addon:last-child,.input-group-btn:first-child>.btn-group:not(:first-child)>.btn,.input-group-btn:first-child>.btn:not(:first-child),.input-group-btn:last-child>.btn,.input-group-btn:last-child>.btn-group>.btn,.input-group-btn:last-child>.dropdown-toggle.input-group-addon:last-child.input-group-btn.input-group-btn>.btn.input-group-btn>.btn:energetic,.input-group-btn>.btn:focus,.input-group-btn>.btn:hover.input-group-btn:first-child>.btn,.input-group-btn:first-child>.btn-group.nav.nav>li>a.nav>li>a:focus,.nav>li>a:hover.nav>li.disabled>a.nav>li.disabled>a:focus,.nav>li.disabled>a:hover.nav .open>a,.nav .open>a:focus,.nav .open>a:hover.nav .nav-divider.nav>li>a>img.nav-tabs>li.nav-tabs>li>a.nav-tabs>li.energetic>a,.nav-tabs>li.energetic>a:focus,.nav-tabs>li.energetic>a:hover.nav-tabs.nav-justified.nav-tabs.nav-justified>li.nav-tabs.nav-justified>li>a.nav-tabs.nav-justified>.energetic>a,.nav-tabs.nav-justified>.energetic>a:focus,.nav-tabs.nav-justified>.energetic>a:hover@media (min-width:768px).nav-pills>li.nav-justified>li,.nav-stacked>li.nav-pills>li>a.nav-pills>li+li.nav-pills>li.energetic>a,.nav-pills>li.energetic>a:focus,.nav-pills>li.energetic>a:hover.nav-stacked>li+li.nav-justified.nav-justified>li>a.nav-tabs-justified.nav-tabs-justified>li>a.nav-tabs-justified>.energetic>a,.nav-tabs-justified>.energetic>a:focus,.nav-tabs-justified>.energetic>a:hover@media (min-width:768px).tab-content>.tab-pane.tab-content>.energetic.nav-tabs .dropdown-menu.navbar.navbar-collapse.navbar-collapse.in@media (min-width:768px).bundlebox,.bundlebox1,.carousel-inner,.media,.media-body,.modal-open,.progress,.sr-only.container-fluid>.navbar-collapse,.container-fluid>.navbar-header,.container>.navbar-collapse,.container>.navbar-header.navbar-static-top.navbar-fixed-bottom,.navbar-fixed-top.navbar-fixed-top.navbar-fixed-bottom.navbar-brand.navbar-brand:focus,.navbar-brand:hover@media (min-width:768px).navbar-toggle.navbar-toggle:focus.navbar-toggle .icon-bar.navbar-toggle .icon-bar+.icon-bar@media (min-width:768px).breadcrumb>li,.pagination.navbar-nav.navbar-nav>li>a@media (max-width:767px).progress-striped .progress-bar,.progress-striped .progress-bar-success@media (min-width:768px).navbar-form@media (min-width:768px)@media (max-width:767px).navbar-nav>li>.dropdown-menu.navbar-fixed-bottom .navbar-nav>li>.dropdown-menu.navbar-btn.navbar-btn.btn-sm.navbar-btn.btn-xs.navbar-text@media (min-width:768px).navbar-default.navbar-default .navbar-brand.navbar-default .navbar-brand:focus,.navbar-default .navbar-brand:hover.navbar-default .navbar-nav>li>a,.navbar-default .navbar-text.navbar-default .navbar-nav>li>a:focus,.navbar-default .navbar-nav>li>a:hover.navbar-default .navbar-nav>.energetic>a,.navbar-default .navbar-nav>.energetic>a:focus,.navbar-default .navbar-nav>.energetic>a:hover.navbar-default .navbar-nav>.disabled>a,.navbar-default .navbar-nav>.disabled>a:focus,.navbar-default .navbar-nav>.disabled>a:hover.navbar-default .navbar-toggle.navbar-default .navbar-toggle:focus,.navbar-default .navbar-toggle:hover.navbar-default .navbar-toggle .icon-bar.navbar-default .navbar-collapse,.navbar-default .navbar-form.navbar-default .navbar-nav>.open>a,.navbar-default .navbar-nav>.open>a:focus,.navbar-default .navbar-nav>.open>a:hover@media (max-width:767px).navbar-default .navbar-link.navbar-default .navbar-link:hover.navbar-inverse.navbar-inverse .navbar-brand.navbar-inverse .navbar-brand:focus,.navbar-inverse .navbar-brand:hover.navbar-inverse .navbar-nav>li>a,.navbar-inverse .navbar-text.navbar-inverse .navbar-nav>li>a:focus,.navbar-inverse .navbar-nav>li>a:hover.navbar-inverse .navbar-nav>.energetic>a,.navbar-inverse .navbar-nav>.energetic>a:focus,.navbar-inverse .navbar-nav>.energetic>a:hover.navbar-inverse .navbar-nav>.disabled>a,.navbar-inverse .navbar-nav>.disabled>a:focus,.navbar-inverse .navbar-nav>.disabled>a:hover.navbar-inverse .navbar-toggle.navbar-inverse .navbar-toggle:focus,.navbar-inverse .navbar-toggle:hover.navbar-inverse .navbar-toggle .icon-bar.navbar-inverse .navbar-collapse,.navbar-inverse .navbar-form.navbar-inverse .navbar-nav>.open>a,.navbar-inverse .navbar-nav>.open>a:focus,.navbar-inverse .navbar-nav>.open>a:hover@media (max-width:767px).navbar-inverse .navbar-link.navbar-inverse .navbar-link:hover.breadcrumb.breadcrumb>li+li:earlier than.breadcrumb>.energetic.pagination.pager li,.pagination>li.pagination>li>a,.pagination>li>span.badge,.label.pagination>li:first-child>a,.pagination>li:first-child>span.pagination>li:last-child>a,.pagination>li:last-child>span.pagination>li>a:focus,.pagination>li>a:hover,.pagination>li>span:focus,.pagination>li>span:hover.pagination>.energetic>a,.pagination>.energetic>a:focus,.pagination>.energetic>a:hover,.pagination>.energetic>span,.pagination>.energetic>span:focus,.pagination>.energetic>span:hover.pagination>.disabled>a,.pagination>.disabled>a:focus,.pagination>.disabled>a:hover,.pagination>.disabled>span,.pagination>.disabled>span:focus,.pagination>.disabled>span:hover.pagination-lg>li>a,.pagination-lg>li>span.pagination-lg>li:first-child>a,.pagination-lg>li:first-child>span.pagination-lg>li:last-child>a,.pagination-lg>li:last-child>span.pagination-sm>li>a,.pagination-sm>li>span.pagination-sm>li:first-child>a,.pagination-sm>li:first-child>span.pagination-sm>li:last-child>a,.pagination-sm>li:last-child>span.pager.pager li>a,.pager li>span.pager li>a:focus,.pager li>a:hover.pager .subsequent>a,.pager .subsequent>span.pager .earlier>a,.pager .earlier>span.pager .disabled>a,.pager .disabled>a:focus,.pager .disabled>a:hover,.pager .disabled>span.label.label[href]:focus,.label[href]:hover.label:empty.btn .label.label-default.label-default[href]:focus,.label-default[href]:hover.label-primary.label-primary[href]:focus,.label-primary[href]:hover.label-success.label-success[href]:focus,.label-success[href]:hover.label-info.label-info[href]:focus,.label-info[href]:hover.label-warning.label-warning[href]:focus,.label-warning[href]:hover.label-danger.label-danger[href]:focus,.label-danger[href]:hover.badge.badge:empty.media-object,.thumbnail.btn .badge.btn-xs .badgea.badge:focus,a.badge:hover.nav-pills>.energetic>a>.badge,a.list-group-item.energetic>.badge.jumbotron,.jumbotron .h1,.jumbotron h1.nav-pills>li>a>.badge.jumbotron.jumbotron p.alert,.thumbnail.alert .alert-link,.shut.container .jumbotron.jumbotron .container@media display screen and (min-width:768px).thumbnail.thumbnail a>img,.thumbnail>imga.thumbnail.energetic,a.thumbnail:focus,a.thumbnail:hover.thumbnail .caption.alert.alert h4.alert>p,.alert>ul.alert>p+p.alert-dismissable.alert-dismissable .shut.alert-success.alert-success hr.alert-success .alert-link.alert-info.alert-info hr.alert-info .alert-link.alert-warning.alert-warning hr.alert-warning .alert-link.alert-danger.alert-danger hr.alert-danger .alert-link@-webkit-keyframes progress-bar-stripes@keyframes progress-bar-stripes.progress.progress-bar.shut,.list-group-item>.badge.progress-striped .progress-bar.progress.energetic .progress-bar.progress-bar-success.progress-striped .progress-bar-success.progress-striped .progress-bar-info,.progress-striped .progress-bar-warning.progress-bar-info.progress-striped .progress-bar-info.progress-bar-warning.progress-striped .progress-bar-warning.progress-bar-danger.progress-striped .progress-bar-danger.media,.media-body.media,.media .media.media:first-child.media-heading.media>.pull-left.media>.pull-right.media-list.list-group.list-group-item.list-group-item:first-child.list-group-item:last-child.list-group-item>.badge+.badgea.list-group-itema.list-group-item .list-group-item-headinga.list-group-item:focus,a.list-group-item:hovera.list-group-item.energetic,a.list-group-item.energetic:focus,a.list-group-item.energetic:hovera.list-group-item.energetic .list-group-item-heading,a.list-group-item.energetic:focus .list-group-item-heading,a.list-group-item.energetic:hover .list-group-item-headinga.list-group-item.energetic .list-group-item-text,a.list-group-item.energetic:focus .list-group-item-text,a.list-group-item.energetic:hover .list-group-item-text.list-group-item-successa.list-group-item-successa.list-group-item-success .list-group-item-headinga.list-group-item-success:focus,a.list-group-item-success:hovera.list-group-item-success.energetic,a.list-group-item-success.energetic:focus,a.list-group-item-success.energetic:hover.list-group-item-infoa.list-group-item-infoa.list-group-item-info .list-group-item-headinga.list-group-item-info:focus,a.list-group-item-info:hovera.list-group-item-info.energetic,a.list-group-item-info.energetic:focus,a.list-group-item-info.energetic:hover.list-group-item-warninga.list-group-item-warninga.list-group-item-warning .list-group-item-headinga.list-group-item-warning:focus,a.list-group-item-warning:hovera.list-group-item-warning.energetic,a.list-group-item-warning.energetic:focus,a.list-group-item-warning.energetic:hover.list-group-item-dangera.list-group-item-dangera.list-group-item-danger .list-group-item-headinga.list-group-item-danger:focus,a.list-group-item-danger:hovera.list-group-item-danger.energetic,a.list-group-item-danger.energetic:focus,a.list-group-item-danger.energetic:hover.panel-heading>.dropdown .dropdown-toggle,.panel-title,.panel-title>a.list-group-item-heading.list-group-item-text.panel.panel-title,.panel>.list-group,.panel>.desk,.panel>.table-responsive>.desk.panel-body.panel-title.panel-footer.panel>.list-group .list-group-item.panel-group .panel-heading,.panel>.list-group:last-child .list-group-item:last-child,.panel>.table-bordered>tbody>tr:first-child>td,.panel>.table-bordered>tbody>tr:first-child>th,.panel>.table-bordered>tbody>tr:last-child>td,.panel>.table-bordered>tbody>tr:last-child>th,.panel>.table-bordered>tfoot>tr:last-child>td,.panel>.table-bordered>tfoot>tr:last-child>th,.panel>.table-bordered>thead>tr:first-child>td,.panel>.table-bordered>thead>tr:first-child>th,.panel>.table-responsive>.table-bordered>tbody>tr:first-child>td,.panel>.table-responsive>.table-bordered>tbody>tr:first-child>th,.panel>.table-responsive>.table-bordered>tbody>tr:last-child>td,.panel>.table-responsive>.table-bordered>tbody>tr:last-child>th,.panel>.table-responsive>.table-bordered>tfoot>tr:last-child>td,.panel>.table-responsive>.table-bordered>tfoot>tr:last-child>th,.panel>.table-responsive>.table-bordered>thead>tr:first-child>td,.panel>.table-responsive>.table-bordered>thead>tr:first-child>th.panel>.list-group:last-child .list-group-item:last-child,.panel>.table-responsive:last-child>.desk:last-child,.panel>.desk:last-child.panel>.list-group:first-child .list-group-item:first-child.panel-heading+.list-group .list-group-item:first-child.panel>.table-responsive:first-child>.desk:first-child,.panel>.desk:first-child.panel>.table-responsive:first-child>.desk:first-child>tbody:first-child>tr:first-child td:first-child,.panel>.table-responsive:first-child>.desk:first-child>tbody:first-child>tr:first-child th:first-child,.panel>.table-responsive:first-child>.desk:first-child>thead:first-child>tr:first-child td:first-child,.panel>.table-responsive:first-child>.desk:first-child>thead:first-child>tr:first-child th:first-child,.panel>.desk:first-child>tbody:first-child>tr:first-child td:first-child,.panel>.desk:first-child>tbody:first-child>tr:first-child th:first-child,.panel>.desk:first-child>thead:first-child>tr:first-child td:first-child,.panel>.desk:first-child>thead:first-child>tr:first-child th:first-child.panel>.table-responsive:first-child>.desk:first-child>tbody:first-child>tr:first-child td:last-child,.panel>.table-responsive:first-child>.desk:first-child>tbody:first-child>tr:first-child th:last-child,.panel>.table-responsive:first-child>.desk:first-child>thead:first-child>tr:first-child td:last-child,.panel>.table-responsive:first-child>.desk:first-child>thead:first-child>tr:first-child th:last-child,.panel>.desk:first-child>tbody:first-child>tr:first-child td:last-child,.panel>.desk:first-child>tbody:first-child>tr:first-child th:last-child,.panel>.desk:first-child>thead:first-child>tr:first-child td:last-child,.panel>.desk:first-child>thead:first-child>tr:first-child th:last-child.panel>.table-responsive:last-child>.desk:last-child>tbody:last-child>tr:last-child td:first-child,.panel>.table-responsive:last-child>.desk:last-child>tbody:last-child>tr:last-child th:first-child,.panel>.table-responsive:last-child>.desk:last-child>tfoot:last-child>tr:last-child td:first-child,.panel>.table-responsive:last-child>.desk:last-child>tfoot:last-child>tr:last-child th:first-child,.panel>.desk:last-child>tbody:last-child>tr:last-child td:first-child,.panel>.desk:last-child>tbody:last-child>tr:last-child th:first-child,.panel>.desk:last-child>tfoot:last-child>tr:last-child td:first-child,.panel>.desk:last-child>tfoot:last-child>tr:last-child th:first-child.panel>.table-responsive:last-child>.desk:last-child>tbody:last-child>tr:last-child td:last-child,.panel>.table-responsive:last-child>.desk:last-child>tbody:last-child>tr:last-child th:last-child,.panel>.table-responsive:last-child>.desk:last-child>tfoot:last-child>tr:last-child td:last-child,.panel>.table-responsive:last-child>.desk:last-child>tfoot:last-child>tr:last-child th:last-child,.panel>.desk:last-child>tbody:last-child>tr:last-child td:last-child,.panel>.desk:last-child>tbody:last-child>tr:last-child th:last-child,.panel>.desk:last-child>tfoot:last-child>tr:last-child td:last-child,.panel>.desk:last-child>tfoot:last-child>tr:last-child th:last-child.panel>.panel-body+.desk,.panel>.panel-body+.table-responsive.panel>.desk>tbody:first-child>tr:first-child td,.panel>.desk>tbody:first-child>tr:first-child th.panel>.table-bordered,.panel>.table-responsive>.table-bordered.panel>.table-bordered>tbody>tr>td:first-child,.panel>.table-bordered>tbody>tr>th:first-child,.panel>.table-bordered>tfoot>tr>td:first-child,.panel>.table-bordered>tfoot>tr>th:first-child,.panel>.table-bordered>thead>tr>td:first-child,.panel>.table-bordered>thead>tr>th:first-child,.panel>.table-responsive>.table-bordered>tbody>tr>td:first-child,.panel>.table-responsive>.table-bordered>tbody>tr>th:first-child,.panel>.table-responsive>.table-bordered>tfoot>tr>td:first-child,.panel>.table-responsive>.table-bordered>tfoot>tr>th:first-child,.panel>.table-responsive>.table-bordered>thead>tr>td:first-child,.panel>.table-responsive>.table-bordered>thead>tr>th:first-child.panel>.table-bordered>tbody>tr>td:last-child,.panel>.table-bordered>tbody>tr>th:last-child,.panel>.table-bordered>tfoot>tr>td:last-child,.panel>.table-bordered>tfoot>tr>th:last-child,.panel>.table-bordered>thead>tr>td:last-child,.panel>.table-bordered>thead>tr>th:last-child,.panel>.table-responsive>.table-bordered>tbody>tr>td:last-child,.panel>.table-responsive>.table-bordered>tbody>tr>th:last-child,.panel>.table-responsive>.table-bordered>tfoot>tr>td:last-child,.panel>.table-responsive>.table-bordered>tfoot>tr>th:last-child,.panel>.table-responsive>.table-bordered>thead>tr>td:last-child,.panel>.table-responsive>.table-bordered>thead>tr>th:last-child.panel>.table-responsive.panel-group.panel-group .panel.panel-group .panel+.panel.panel-group .panel-heading+.panel-collapse .panel-body.panel-group .panel-footer.panel-group .panel-footer+.panel-collapse .panel-body.panel-default.panel-default>.panel-heading.panel-default>.panel-heading+.panel-collapse .panel-body.panel-default>.panel-footer+.panel-collapse .panel-body.panel-primary>.panel-heading.panel-primary>.panel-heading+.panel-collapse .panel-body.panel-primary>.panel-footer+.panel-collapse .panel-body.panel-success.panel-success>.panel-heading.panel-success>.panel-heading+.panel-collapse .panel-body.panel-success>.panel-footer+.panel-collapse .panel-body.panel-info.panel-info>.panel-heading.panel-info>.panel-heading+.panel-collapse .panel-body.panel-info>.panel-footer+.panel-collapse .panel-body.panel-warning.panel-warning>.panel-heading.panel-warning>.panel-heading+.panel-collapse .panel-body.panel-warning>.panel-footer+.panel-collapse .panel-body.panel-danger.panel-danger>.panel-heading.panel-danger>.panel-heading+.panel-collapse .panel-body.panel-danger>.panel-footer+.panel-collapse .panel-body.effectively.effectively blockquote.well-lg.well-sm.shut.carousel-caption,.carousel-control.shut:focus,.shut:hoverbutton.shut.modal-content,.popover.modal.modal.fade .modal-dialog.modal.in .modal-dialog.modal-dialog.modal-content.modal-backdrop.modal-backdrop.fade.modal-backdrop.in.modal-header.modal-header .shut.modal-title.modal-body.popover,.tooltip,.tooltip-arrow.modal-footer.tooltip.high .tooltip-arrow,.tooltip.top-left .tooltip-arrow,.tooltip.top-right .tooltip-arrow.modal-footer .btn+.btn.modal-footer .btn-group .btn+.btn.modal-footer .btn-block+.btn-block@media (min-width:768px)@media (min-width:992px).tooltip.tooltip.in.tooltip.high.tooltip.proper.tooltip.backside.tooltip.left.tooltip-inner.tooltip-arrow.tooltip.high .tooltip-arrow.tooltip.top-left .tooltip-arrow.tooltip.top-right .tooltip-arrow.tooltip.proper .tooltip-arrow.tooltip.left .tooltip-arrow.tooltip.backside .tooltip-arrow,.tooltip.bottom-left .tooltip-arrow,.tooltip.bottom-right .tooltip-arrow.tooltip.backside .tooltip-arrow.tooltip.bottom-left .tooltip-arrow.tooltip.bottom-right .tooltip-arrow.popover.popover.high.popover.proper.popover.backside.popover.left.popover-title.popover-content.popover>.arrow,.popover>.arrow:after.carousel,.carousel-inner.popover>.arrow.popover>.arrow:after.popover.high>.arrow.popover.high>.arrow:after.popover.left>.arrow:after,.popover.proper>.arrow:after.popover.proper>.arrow.popover.proper>.arrow:after.popover.backside>.arrow.popover.backside>.arrow:after.popover.left>.arrow.popover.left>.arrow:after.carousel-inner.carousel-inner>.merchandise.carousel-inner>.merchandise>a>img,.carousel-inner>.merchandise>img.carousel-inner>.energetic,.carousel-inner>.subsequent,.carousel-inner>.prev.carousel-inner>.energetic.carousel-inner>.subsequent,.carousel-inner>.prev.carousel-inner>.subsequent.carousel-inner>.prev.carousel-inner>.subsequent.left,.carousel-inner>.prev.proper.carousel-inner>.energetic.left.carousel-inner>.energetic.proper.carousel-control.carousel-control.left.carousel-control.proper.carousel-control:focus,.carousel-control:hover.carousel-control .glyphicon-chevron-left,.carousel-control .glyphicon-chevron-right,.carousel-control .icon-next,.carousel-control .icon-prev.carousel-control .glyphicon-chevron-left,.carousel-control .icon-prev.carousel-control .glyphicon-chevron-right,.carousel-control .icon-next.carousel-control .icon-next,.carousel-control .icon-prev.carousel-control .icon-prev:earlier than.carousel-control .icon-next:earlier than.carousel-indicators.carousel-indicators li.carousel-indicators .energetic.carousel-caption.carousel-caption .btn,.text-hide@media display screen and (min-width:768px).btn-group-vertical>.btn-group:after,.btn-group-vertical>.btn-group:earlier than,.btn-toolbar:after,.btn-toolbar:earlier than,.clearfix:after,.clearfix:earlier than,.container-fluid:after,.container-fluid:earlier than,.container:after,.container:earlier than,.form-horizontal .form-group:after,.form-horizontal .form-group:earlier than,.modal-footer:after,.modal-footer:earlier than,.nav:after,.nav:earlier than,.navbar-collapse:after,.navbar-collapse:earlier than,.navbar-header:after,.navbar-header:earlier than,.navbar:after,.navbar:earlier than,.pager:after,.pager:earlier than,.panel-body:after,.panel-body:earlier than,.row:after,.row:earlier than.center-block.pull-right.pull-left.disguise.present.hidden,.visible-lg,.visible-md,.visible-sm,.visible-xs.invisible.text-hide.menuarea,nav.hidden.affix@-ms-viewport@media (max-width:767px)@media (min-width:768px) and (max-width:991px)@media (min-width:992px) and (max-width:1199px)@media (min-width:1200px)@media (max-width:767px)@media (min-width:768px) and (max-width:991px)@media (min-width:992px) and (max-width:1199px).visible-print@media print.menu,article,apart,determine,footer,header,hgroup,nav,part@media (min-width:240px)@media (min-width:768px)@media (min-width:992px)@media(min-width:1200px)physique.menu li a,.whitetexta,a:energetic,a:focus,a:hover,imgdesk.w300.w400.w600.w700.w800.italic.margin_top1.margin_top2.margin_top3.margin_top4.margin_top6.margin_strip.margin_top10.margin_top-1.margin_top-Four.margin_top-5*,.menu ul,blockquote,physique,dd,div,dl,dt,fieldset,type,h1,h2,h3,h4,h5,h6,html,enter,label,li,ol,p,pre,td,th,ul.underline.menuarea@import url(//fonts.googleapis.com/css?household=roboto:400,400italic,600,700,800);*htmlnav.menu li.menu li:first-child.menu li a.menu ul,.menu ul ul.menu li a:hover,.menu li:hover>a.menu ul.menu ul ul:after,.menu ul:after.menu ul:after.menu ul li.brdMid,.fa-pull-left.menu ul li a,.menu ul li:last-child a.menu ul li a.menu ul li:last-child a.menu ul li a:hover,.menu ul li:hover>a,.responsive-menu.menu li:hover>ul.menu ul ul.menu ul ul:after.menu li>ul ul:hover.responsive-menu.responsive-menu:hovera.homer@media (min-width:768px) and (max-width:979px)@media (max-width:767px).fa.fa-pull-left,.fa.pull-leftp.greystrip,.redstrip.bundlebox.bundlebox1.redstrip.greystrip.raleway.nav-tabs.panel-primary.panel.panel-primary>.panel-heading.panel-heading.nav-tabs>li.energetic>a,.nav-tabs>li.energetic>a:focus,.nav-tabs>li.energetic>a:hover.nav-tabs>li>a.nav-tabs>li>a:hover.brdMid,.fa-inverse,.show-menu.fs18.insidelist li.padding0.icon1.icon1:hover.icon2.icon2:hover.icon3.icon3:hover.icon4.icon4:hover.icon5.icon5:hover.icon6.icon6:hover.icon7.icon7:hover.brdMidTop.brdMid.bundlebox1>p.bundlebox1>p>img.telephone.fa-fw,.fa-li,.show-menu.imgResponsive>img.show-menuenter[type=checkbox]enter[type=checkbox]:checked~#menu,enter[type=checkbox]~#menu@media display screen and (max-width :760px).fa,.fa-stack@media(max-width:420px)@media(min-width:420px)@media(min-width:600px).font0.a-vertical.a-spacing-none.a-vertical.a-spacing-none>li@font-face@font-face.fa.fa-lg.fa-2x.fa-3x.fa-4x.fa-5x.fa-fw.fa-ul.fa.fa-pull-right,.fa.pull-right.fa-ul>li.fa-li.fa-li.fa-lg.fa-border.fa-pull-right.fa-spin.fa-pulse@-webkit-keyframes fa-spin@keyframes fa-spin.fa-rotate-90.fa-rotate-180.fa-rotate-270.fa-flip-horizontal.fa-flip-vertical:root .fa-flip-horizontal,:root .fa-flip-vertical,:root .fa-rotate-180,:root .fa-rotate-270,:root .fa-rotate-90.fa-stack.fa-stack-1x,.fa-stack-2x.fa-stack-1x.fa-stack-2x.fa-glass:earlier than.fa-music:earlier than.fa-search:earlier than.fa-envelope-o:earlier than.fa-heart:earlier than.fa-star:earlier than.fa-star-o:earlier than.fa-user:earlier than.fa-film:earlier than.fa-th-large:earlier than.fa-th:earlier than.fa-th-list:earlier than.fa-check:earlier than.fa-close:earlier than,.fa-remove:earlier than,.fa-times:earlier than.fa-search-plus:earlier than.fa-search-minus:earlier than.fa-power-off:earlier than.fa-signal:earlier than.fa-cog:earlier than,.fa-gear:earlier than.fa-trash-o:earlier than.fa-home:earlier than.fa-file-o:earlier than.fa-clock-o:earlier than.fa-road:earlier than.fa-download:earlier than.fa-arrow-circle-o-down:earlier than.fa-arrow-circle-o-up:earlier than.fa-inbox:earlier than.fa-play-circle-o:earlier than.fa-repeat:earlier than,.fa-rotate-right:earlier than.fa-refresh:earlier than.fa-list-alt:earlier than.fa-lock:earlier than.fa-flag:earlier than.fa-headphones:earlier than.fa-volume-off:earlier than.fa-volume-down:earlier than.fa-volume-up:earlier than.fa-qrcode:earlier than.fa-barcode:earlier than.fa-tag:earlier than.fa-tags:earlier than.fa-book:earlier than.fa-bookmark:earlier than.fa-print:earlier than.fa-camera:earlier than.fa-font:earlier than.fa-bold:earlier than.fa-italic:earlier than.fa-text-height:earlier than.fa-text-width:earlier than.fa-align-left:earlier than.fa-align-center:earlier than.fa-align-right:earlier than.fa-align-justify:earlier than.fa-list:earlier than.fa-dedent:earlier than,.fa-outdent:earlier than.fa-indent:earlier than.fa-video-camera:earlier than.fa-image:earlier than,.fa-photo:earlier than,.fa-picture-o:earlier than.fa-pencil:earlier than.fa-map-marker:earlier than.fa-adjust:earlier than.fa-tint:earlier than.fa-edit:earlier than,.fa-pencil-square-o:earlier than.fa-share-square-o:earlier than.fa-check-square-o:earlier than.fa-arrows:earlier than.fa-step-backward:earlier than.fa-fast-backward:earlier than.fa-backward:earlier than.fa-play:earlier than.fa-pause:earlier than.fa-stop:earlier than.fa-forward:earlier than.fa-fast-forward:earlier than.fa-step-forward:earlier than.fa-eject:earlier than.fa-chevron-left:earlier than.fa-chevron-right:earlier than.fa-plus-circle:earlier than.fa-minus-circle:earlier than.fa-times-circle:earlier than.fa-check-circle:earlier than.fa-question-circle:earlier than.fa-info-circle:earlier than.fa-crosshairs:earlier than.fa-times-circle-o:earlier than.fa-check-circle-o:earlier than.fa-ban:earlier than.fa-arrow-left:earlier than.fa-arrow-right:earlier than.fa-arrow-up:earlier than.fa-arrow-down:earlier than.fa-mail-forward:earlier than,.fa-share:earlier than.fa-expand:earlier than.fa-compress:earlier than.fa-plus:earlier than.fa-minus:earlier than.fa-asterisk:earlier than.fa-exclamation-circle:earlier than.fa-gift:earlier than.fa-leaf:earlier than.fa-fire:earlier than.fa-eye:earlier than.fa-eye-slash:earlier than.fa-exclamation-triangle:earlier than,.fa-warning:earlier than.fa-plane:earlier than.fa-calendar:earlier than.fa-random:earlier than.fa-comment:earlier than.fa-magnet:earlier than.fa-chevron-up:earlier than.fa-chevron-down:earlier than.fa-retweet:earlier than.fa-shopping-cart:earlier than.fa-folder:earlier than.fa-folder-open:earlier than.fa-arrows-v:earlier than.fa-arrows-h:earlier than.fa-bar-chart-o:earlier than,.fa-bar-chart:earlier than.fa-twitter-square:earlier than.fa-facebook-square:earlier than.fa-camera-retro:earlier than.fa-key:earlier than.fa-cogs:earlier than,.fa-gears:earlier than.fa-comments:earlier than.fa-thumbs-o-up:earlier than.fa-thumbs-o-down:earlier than.fa-star-half:earlier than.fa-heart-o:earlier than.fa-sign-out:earlier than.fa-linkedin-square:earlier than.fa-thumb-tack:earlier than.fa-external-link:earlier than.fa-sign-in:earlier than.fa-trophy:earlier than.fa-github-square:earlier than.fa-upload:earlier than.fa-lemon-o:earlier than.fa-phone:earlier than.fa-square-o:earlier than.fa-bookmark-o:earlier than.fa-phone-square:earlier than.fa-twitter:earlier than.fa-facebook-f:earlier than,.fa-facebook:earlier than.fa-github:earlier than.fa-unlock:earlier than.fa-credit-card:earlier than.fa-feed:earlier than,.fa-rss:earlier than.fa-hdd-o:earlier than.fa-bullhorn:earlier than.fa-bell:earlier than.fa-certificate:earlier than.fa-hand-o-right:earlier than.fa-hand-o-left:earlier than.fa-hand-o-up:earlier than.fa-hand-o-down:earlier than.fa-arrow-circle-left:earlier than.fa-arrow-circle-right:earlier than.fa-arrow-circle-up:earlier than.fa-arrow-circle-down:earlier than.fa-globe:earlier than.fa-wrench:earlier than.fa-tasks:earlier than.fa-filter:earlier than.fa-briefcase:earlier than.fa-arrows-alt:earlier than.fa-group:earlier than,.fa-users:earlier than.fa-chain:earlier than,.fa-link:earlier than.fa-cloud:earlier than.fa-flask:earlier than.fa-cut:earlier than,.fa-scissors:earlier than.fa-copy:earlier than,.fa-files-o:earlier than.fa-paperclip:earlier than.fa-floppy-o:earlier than,.fa-save:earlier than.fa-square:earlier than.fa-bars:earlier than,.fa-navicon:earlier than,.fa-reorder:earlier than.fa-list-ul:earlier than.fa-list-ol:earlier than.fa-strikethrough:earlier than.fa-underline:earlier than.fa-table:earlier than.fa-magic:earlier than.fa-truck:earlier than.fa-pinterest:earlier than.fa-pinterest-square:earlier than.fa-google-plus-square:earlier than.fa-google-plus:earlier than.fa-money:earlier than.fa-caret-down:earlier than.fa-caret-up:earlier than.fa-caret-left:earlier than.fa-caret-right:earlier than.fa-columns:earlier than.fa-sort:earlier than,.fa-unsorted:earlier than.fa-sort-desc:earlier than,.fa-sort-down:earlier than.fa-sort-asc:earlier than,.fa-sort-up:earlier than.fa-envelope:earlier than.fa-linkedin:earlier than.fa-rotate-left:earlier than,.fa-undo:earlier than.fa-gavel:earlier than,.fa-legal:earlier than.fa-dashboard:earlier than,.fa-tachometer:earlier than.fa-comment-o:earlier than.fa-comments-o:earlier than.fa-bolt:earlier than,.fa-flash:earlier than.fa-sitemap:earlier than.fa-umbrella:earlier than.fa-clipboard:earlier than,.fa-paste:earlier than.fa-lightbulb-o:earlier than.fa-exchange:earlier than.fa-cloud-download:earlier than.fa-cloud-upload:earlier than.fa-user-md:earlier than.fa-stethoscope:earlier than.fa-suitcase:earlier than.fa-bell-o:earlier than.fa-coffee:earlier than.fa-cutlery:earlier than.fa-file-text-o:earlier than.fa-building-o:earlier than.fa-hospital-o:earlier than.fa-ambulance:earlier than.fa-medkit:earlier than.fa-fighter-jet:earlier than.fa-beer:earlier than.fa-h-square:earlier than.fa-plus-square:earlier than.fa-angle-double-left:earlier than.fa-angle-double-right:earlier than.fa-angle-double-up:earlier than.fa-angle-double-down:earlier than.fa-angle-left:earlier than.fa-angle-right:earlier than.fa-angle-up:earlier than.fa-angle-down:earlier than.fa-desktop:earlier than.fa-laptop:earlier than.fa-tablet:earlier than.fa-mobile-phone:earlier than,.fa-mobile:earlier than.fa-circle-o:earlier than.fa-quote-left:earlier than.fa-quote-right:earlier than.fa-spinner:earlier than.fa-circle:earlier than.fa-mail-reply:earlier than,.fa-reply:earlier than.fa-github-alt:earlier than.fa-folder-o:earlier than.fa-folder-open-o:earlier than.fa-smile-o:earlier than.fa-frown-o:earlier than.fa-meh-o:earlier than.fa-gamepad:earlier than.fa-keyboard-o:earlier than.fa-flag-o:earlier than.fa-flag-checkered:earlier than.fa-terminal:earlier than.fa-code:earlier than.fa-mail-reply-all:earlier than,.fa-reply-all:earlier than.fa-star-half-empty:earlier than,.fa-star-half-full:earlier than,.fa-star-half-o:earlier than.fa-location-arrow:earlier than.fa-crop:earlier than.fa-code-fork:earlier than.fa-chain-broken:earlier than,.fa-unlink:earlier than.fa-question:earlier than.fa-info:earlier than.fa-exclamation:earlier than.fa-superscript:earlier than.fa-subscript:earlier than.fa-eraser:earlier than.fa-puzzle-piece:earlier than.fa-microphone:earlier than.fa-microphone-slash:earlier than.fa-shield:earlier than.fa-calendar-o:earlier than.fa-fire-extinguisher:earlier than.fa-rocket:earlier than.fa-maxcdn:earlier than.fa-chevron-circle-left:earlier than.fa-chevron-circle-right:earlier than.fa-chevron-circle-up:earlier than.fa-chevron-circle-down:earlier than.fa-html5:earlier than.fa-css3:earlier than.fa-anchor:earlier than.fa-unlock-alt:earlier than.fa-bullseye:earlier than.fa-ellipsis-h:earlier than.fa-ellipsis-v:earlier than.fa-rss-square:earlier than.fa-play-circle:earlier than.fa-ticket:earlier than.fa-minus-square:earlier than.fa-minus-square-o:earlier than.fa-level-up:earlier than.fa-level-down:earlier than.fa-check-square:earlier than.fa-pencil-square:earlier than.fa-external-link-square:earlier than.fa-share-square:earlier than.fa-compass:earlier than.fa-caret-square-o-down:earlier than,.fa-toggle-down:earlier than.fa-caret-square-o-up:earlier than,.fa-toggle-up:earlier than.fa-caret-square-o-right:earlier than,.fa-toggle-right:earlier than.fa-eur:earlier than,.fa-euro:earlier than.fa-gbp:earlier than.fa-dollar:earlier than,.fa-usd:earlier than.fa-inr:earlier than,.fa-rupee:earlier than.fa-cny:earlier than,.fa-jpy:earlier than,.fa-rmb:earlier than,.fa-yen:earlier than.fa-rouble:earlier than,.fa-rub:earlier than,.fa-ruble:earlier than.fa-krw:earlier than,.fa-won:earlier than.fa-bitcoin:earlier than,.fa-btc:earlier than.fa-file:earlier than.fa-file-text:earlier than.fa-sort-alpha-asc:earlier than.fa-sort-alpha-desc:earlier than.fa-sort-amount-asc:earlier than.fa-sort-amount-desc:earlier than.fa-sort-numeric-asc:earlier than.fa-sort-numeric-desc:earlier than.fa-thumbs-up:earlier than.fa-thumbs-down:earlier than.fa-youtube-square:earlier than.fa-youtube:earlier than.fa-xing:earlier than.fa-xing-square:earlier than.fa-youtube-play:earlier than.fa-dropbox:earlier than.fa-stack-overflow:earlier than.fa-instagram:earlier than.fa-flickr:earlier than.fa-adn:earlier than.fa-bitbucket:earlier than.fa-bitbucket-square:earlier than.fa-tumblr:earlier than.fa-tumblr-square:earlier than.fa-long-arrow-down:earlier than.fa-long-arrow-up:earlier than.fa-long-arrow-left:earlier than.fa-long-arrow-right:earlier than.fa-apple:earlier than.fa-windows:earlier than.fa-android:earlier than.fa-linux:earlier than.fa-dribbble:earlier than.fa-skype:earlier than.fa-foursquare:earlier than.fa-trello:earlier than.fa-female:earlier than.fa-male:earlier than.fa-gittip:earlier than,.fa-gratipay:earlier than.fa-sun-o:earlier than.fa-moon-o:earlier than.fa-archive:earlier than.fa-bug:earlier than.fa-vk:earlier than.fa-weibo:earlier than.fa-renren:earlier than.fa-pagelines:earlier than.fa-stack-exchange:earlier than.fa-arrow-circle-o-right:earlier than.fa-arrow-circle-o-left:earlier than.fa-caret-square-o-left:earlier than,.fa-toggle-left:earlier than.fa-dot-circle-o:earlier than.fa-wheelchair:earlier than.fa-vimeo-square:earlier than.fa-try:earlier than,.fa-turkish-lira:earlier than.fa-plus-square-o:earlier than.fa-space-shuttle:earlier than.fa-slack:earlier than.fa-envelope-square:earlier than.fa-wordpress:earlier than.fa-openid:earlier than.fa-bank:earlier than,.fa-institution:earlier than,.fa-university:earlier than.fa-graduation-cap:earlier than,.fa-mortar-board:earlier than.fa-yahoo:earlier than.fa-google:earlier than.fa-reddit:earlier than.fa-reddit-square:earlier than.fa-stumbleupon-circle:earlier than.fa-stumbleupon:earlier than.fa-delicious:earlier than.fa-digg:earlier than.fa-pied-piper-pp:earlier than.fa-pied-piper-alt:earlier than.fa-drupal:earlier than.fa-joomla:earlier than.fa-language:earlier than.fa-fax:earlier than.fa-building:earlier than.fa-child:earlier than.fa-paw:earlier than.fa-spoon:earlier than.fa-cube:earlier than.fa-cubes:earlier than.fa-behance:earlier than.fa-behance-square:earlier than.fa-steam:earlier than.fa-steam-square:earlier than.fa-recycle:earlier than.fa-automobile:earlier than,.fa-car:earlier than.fa-cab:earlier than,.fa-taxi:earlier than.fa-tree:earlier than.fa-spotify:earlier than.fa-deviantart:earlier than.fa-soundcloud:earlier than.fa-database:earlier than.fa-file-pdf-o:earlier than.fa-file-word-o:earlier than.fa-file-excel-o:earlier than.fa-file-powerpoint-o:earlier than.fa-file-image-o:earlier than,.fa-file-photo-o:earlier than,.fa-file-picture-o:earlier than.fa-file-archive-o:earlier than,.fa-file-zip-o:earlier than.fa-file-audio-o:earlier than,.fa-file-sound-o:earlier than.fa-file-movie-o:earlier than,.fa-file-video-o:earlier than.fa-file-code-o:earlier than.fa-vine:earlier than.fa-codepen:earlier than.fa-jsfiddle:earlier than.fa-life-bouy:earlier than,.fa-life-buoy:earlier than,.fa-life-ring:earlier than,.fa-life-saver:earlier than,.fa-support:earlier than.fa-circle-o-notch:earlier than.fa-ra:earlier than,.fa-rebel:earlier than,.fa-resistance:earlier than.fa-empire:earlier than,.fa-ge:earlier than.fa-git-square:earlier than.fa-git:earlier than.fa-hacker-news:earlier than,.fa-y-combinator-square:earlier than,.fa-yc-square:earlier than.fa-tencent-weibo:earlier than.fa-qq:earlier than.fa-wechat:earlier than,.fa-weixin:earlier than.fa-paper-plane:earlier than,.fa-send:earlier than.fa-paper-plane-o:earlier than,.fa-send-o:earlier than.fa-history:earlier than.fa-circle-thin:earlier than.fa-header:earlier than.fa-paragraph:earlier than.fa-sliders:earlier than.fa-share-alt:earlier than.fa-share-alt-square:earlier than.fa-bomb:earlier than.fa-futbol-o:earlier than,.fa-soccer-ball-o:earlier than.fa-tty:earlier than.fa-binoculars:earlier than.fa-plug:earlier than.fa-slideshare:earlier than.fa-twitch:earlier than.fa-yelp:earlier than.fa-newspaper-o:earlier than.fa-wifi:earlier than.fa-calculator:earlier than.fa-paypal:earlier than.fa-google-wallet:earlier than.fa-cc-visa:earlier than.fa-cc-mastercard:earlier than.fa-cc-discover:earlier than.fa-cc-amex:earlier than.fa-cc-paypal:earlier than.fa-cc-stripe:earlier than.fa-bell-slash:earlier than.fa-bell-slash-o:earlier than.fa-trash:earlier than.fa-copyright:earlier than.fa-at:earlier than.fa-eyedropper:earlier than.fa-paint-brush:earlier than.fa-birthday-cake:earlier than.fa-area-chart:earlier than.fa-pie-chart:earlier than.fa-line-chart:earlier than.fa-lastfm:earlier than.fa-lastfm-square:earlier than.fa-toggle-off:earlier than.fa-toggle-on:earlier than.fa-bicycle:earlier than.fa-bus:earlier than.fa-ioxhost:earlier than.fa-angellist:earlier than.fa-cc:earlier than.fa-ils:earlier than,.fa-shekel:earlier than,.fa-sheqel:earlier than.fa-meanpath:earlier than.fa-buysellads:earlier than.fa-connectdevelop:earlier than.fa-dashcube:earlier than.fa-forumbee:earlier than.fa-leanpub:earlier than.fa-sellsy:earlier than.fa-shirtsinbulk:earlier than.fa-simplybuilt:earlier than.fa-skyatlas:earlier than.fa-cart-plus:earlier than.fa-cart-arrow-down:earlier than.fa-diamond:earlier than.fa-ship:earlier than.fa-user-secret:earlier than.fa-motorcycle:earlier than.fa-street-view:earlier than.fa-heartbeat:earlier than.fa-venus:earlier than.fa-mars:earlier than.fa-mercury:earlier than.fa-intersex:earlier than,.fa-transgender:earlier than.fa-transgender-alt:earlier than.fa-venus-double:earlier than.fa-mars-double:earlier than.fa-venus-mars:earlier than.fa-mars-stroke:earlier than.fa-mars-stroke-v:earlier than.fa-mars-stroke-h:earlier than.fa-neuter:earlier than.fa-genderless:earlier than.fa-facebook-official:earlier than.fa-pinterest-p:earlier than.fa-whatsapp:earlier than.fa-server:earlier than.fa-user-plus:earlier than.fa-user-times:earlier than.fa-bed:earlier than,.fa-hotel:earlier than.fa-viacoin:earlier than.fa-train:earlier than.fa-subway:earlier than.fa-medium:earlier than.fa-y-combinator:earlier than,.fa-yc:earlier than.fa-optin-monster:earlier than.fa-opencart:earlier than.fa-expeditedssl:earlier than.fa-battery-Four:earlier than,.fa-battery-full:earlier than.fa-battery-Three:earlier than,.fa-battery-three-quarters:earlier than.fa-battery-2:earlier than,.fa-battery-half:earlier than.fa-battery-1:earlier than,.fa-battery-quarter:earlier than.fa-battery-Zero:earlier than,.fa-battery-empty:earlier than.fa-mouse-pointer:earlier than.fa-i-cursor:earlier than.fa-object-group:earlier than.fa-object-ungroup:earlier than.fa-sticky-note:earlier than.fa-sticky-note-o:earlier than.fa-cc-jcb:earlier than.fa-cc-diners-club:earlier than.fa-clone:earlier than.fa-balance-scale:earlier than.fa-hourglass-o:earlier than.fa-hourglass-1:earlier than,.fa-hourglass-start:earlier than.fa-hourglass-2:earlier than,.fa-hourglass-half:earlier than.fa-hourglass-Three:earlier than,.fa-hourglass-end:earlier than.fa-hourglass:earlier than.fa-hand-grab-o:earlier than,.fa-hand-rock-o:earlier than.fa-hand-paper-o:earlier than,.fa-hand-stop-o:earlier than.fa-hand-scissors-o:earlier than.fa-hand-lizard-o:earlier than.fa-hand-spock-o:earlier than.fa-hand-pointer-o:earlier than.fa-hand-peace-o:earlier than.fa-trademark:earlier than.fa-registered:earlier than.fa-creative-commons:earlier than.fa-gg:earlier than.fa-gg-circle:earlier than.fa-tripadvisor:earlier than.fa-odnoklassniki:earlier than.fa-odnoklassniki-square:earlier than.fa-get-pocket:earlier than.fa-wikipedia-w:earlier than.fa-safari:earlier than.fa-chrome:earlier than.fa-firefox:earlier than.fa-opera:earlier than.fa-internet-explorer:earlier than.fa-television:earlier than,.fa-tv:earlier than.fa-contao:earlier than.fa-500px:earlier than.fa-amazon:earlier than.fa-calendar-plus-o:earlier than.fa-calendar-minus-o:earlier than.fa-calendar-times-o:earlier than.fa-calendar-check-o:earlier than.fa-industry:earlier than.fa-map-pin:earlier than.fa-map-signs:earlier than.fa-map-o:earlier than.fa-map:earlier than.fa-commenting:earlier than.fa-commenting-o:earlier than.fa-houzz:earlier than.fa-vimeo:earlier than.fa-black-tie:earlier than.fa-fonticons:earlier than.fa-reddit-alien:earlier than.fa-edge:earlier than.fa-credit-card-alt:earlier than.fa-codiepie:earlier than.fa-modx:earlier than.fa-fort-awesome:earlier than.fa-usb:earlier than.fa-product-hunt:earlier than.fa-mixcloud:earlier than.fa-scribd:earlier than.fa-pause-circle:earlier than.fa-pause-circle-o:earlier than.fa-stop-circle:earlier than.fa-stop-circle-o:earlier than.fa-shopping-bag:earlier than.fa-shopping-basket:earlier than.fa-hashtag:earlier than.fa-bluetooth:earlier than.fa-bluetooth-b:earlier than.fa-percent:earlier than.fa-gitlab:earlier than.fa-wpbeginner:earlier than.fa-wpforms:earlier than.fa-envira:earlier than.fa-universal-access:earlier than.fa-wheelchair-alt:earlier than.fa-question-circle-o:earlier than.fa-blind:earlier than.fa-audio-description:earlier than.fa-volume-control-phone:earlier than.fa-braille:earlier than.fa-assistive-listening-systems:earlier than.fa-american-sign-language-interpreting:earlier than,.fa-asl-interpreting:earlier than.fa-deaf:earlier than,.fa-deafness:earlier than,.fa-hard-of-hearing:earlier than.fa-glide:earlier than.fa-glide-g:earlier than.fa-sign-language:earlier than,.fa-signing:earlier than.fa-low-vision:earlier than.fa-viadeo:earlier than.fa-viadeo-square:earlier than.fa-snapchat:earlier than.fa-snapchat-ghost:earlier than.fa-snapchat-square:earlier than.fa-pied-piper:earlier than.fa-first-order:earlier than.fa-yoast:earlier than.fa-themeisle:earlier than.fa-google-plus-circle:earlier than,.fa-google-plus-official:earlier than.fa-fa:earlier than,.fa-font-awesome:earlier than.sr-only.sr-only-focusable:energetic,.sr-only-focusable:focus
# 855-622-RITZ (7489)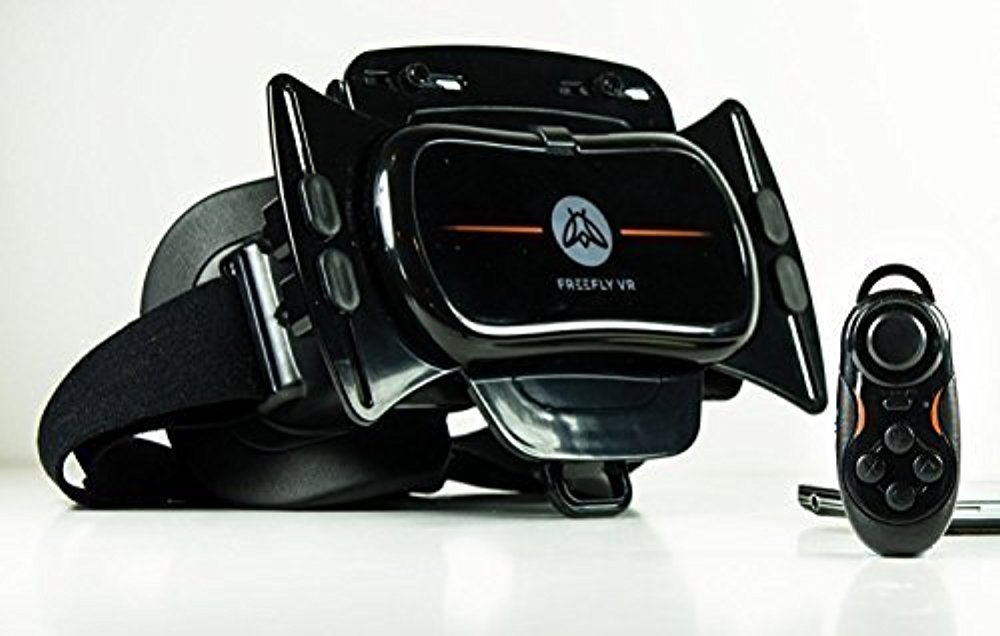 SKU : FF01BK
Description
This machine will monitor your 360° head actions (utilizing your current smartphone) and tasks this in your display screen, making you are feeling such as you're in a digital world, that is known as Digital Actuality.

Get pleasure from one other world with excessive immersivity as a consequence of highest Area of View (120°) out there in the present day, now much more light-weight and with added mushy leather-based end for the largest consolation stage even after longer durations of use.

Premium high quality digital actuality headset that works along with your current cellular together with the newest iPhone 6, iPhone 6 plus, Samsung Galaxy Four&5 and Samsung Be aware Three&Four. Display screen sizes of between Four.7″ and 6.1″. With computerized thickness adjuster.

Comes with a lens fabric and carry-on field!

Free Glide Controller suitable with Android Gadgets
Freefly VR Digital Actuality Smartphone 3D Headset + FREE GLIDE VR bluetooth controller!
The Freefly VR is a smartphone adapter that permits digital actuality content material to be skilled with the smartphone that most individuals already carry of their pockets. Inside seconds of sporting the Freefly VR, you will be sitting in a fantasy theater, dancing by the golf equipment or touring unique areas!
Music movies, films and video games that may be downloaded from Google Play and the App Retailer are all pushing ahead into digital actuality, providing 3D 360 diploma worlds to discover. The light-weight machine blocks exterior mild permitting you to actually lose your self in one other world.
The Freefly VR has shortly turn into well-known because the primary mobile-powered VR headset for these searching for nice immersion, nice design and ease of use. Each a part of the machine has been designed with consumer consolation, simplicity and immersion in thoughts.
The faux-leather provides model and luxury and the wing mechanism means extra prospects can use the Freefly VR than every other headset, independant of whether or not they use Apple or Android telephones. The massive lenses provide a market-leading 120 diploma field-of-view and the distinctive GLIDE VR controller provides wi-fi interactive assist to a rising vary of VR titles.
The Freefly VR is adjustable for display screen sizes of Four.7 to six.1 inches permitting many telephones for use, together with the newest iPhone 6 (and 6 Plus), Samsung S3, S4, S5 and S6, Samsung Be aware Three&Four and lots of extra. Different options of the Freefly VR embrace:
Highest Area of View (120°) out there in the present day;
Broad 42 mm lenses for max subject of immersion;
Distinctive and greatest closing mechanism for numerous telephone sizes (Four.7 – 6.1");
Automated telephone thickness adjuster (6 – 13mm);
Light-weight design;
1-click fast open system;
Ergonomic design;
Anti-fog lens coating;
Additional consolation with mushy faux-leather;
Comes with a carry-on field and lens fabric;

Free included wi-fi GLIDE VR Bluetooth controller.
PAYMENT & SHIPPING INFORMATION
Fee Choices
We settle for fee through PayPal.
You probably have hassle finishing fee through PayPal please contact our buyer assist crew that shall be completely satisfied to help you.
For giant worth or wholesale orders, please contact us and request to be linked to our devoted wholesale crew.
Delivery
Free floor delivery on all USA orders (excludes Alaska and Hawaii).
Supply choices and estimated ship instances in enterprise days:
ABOUT US
The origins of Ritz Camera will be traced again practically a century to 1918, when Benjamin A. Ritz established his soon-to-be well-known portrait studio in Atlantic Metropolis's Ritz Lodge. The studio was an undisputed success, and Benjamin's visible skills might be seen in marriage ceremony, commencement and affirmation portraits across the metropolis.
RETURN POLICY
Our customer support crew is completely satisfied to help you with any questions or considerations that you might have concerning your buy. Please give us a name immediately and we are going to do every little thing we will to resolve your concern. If for any purpose you aren't fully glad with a product, merely return it inside 10 days for all Digital, Video and Wi-fi Telephone merchandise, 30 days for all different merchandise, for a no trouble trade or return. Please be aware concerning Electronics merchandise, some require Return Merchandise Authorization (RMA), and a few are non-returnable.
CONTACT US
Your suggestions is necessary to us.
Buyer satisfaction is our #1 precedence. If for any purpose you aren't 100% glad along with your buy, please name our customer support crew. We might be completely satisfied to help you. Whether or not you`re glad or not, we encourage you to succeed in out to us and tell us. We take each remark severely and work upon to enhance your on-line buying expertise.
Please Name us @ 1-855-622-RITZ (7489)